Skip to Main Content
It looks like you're using Internet Explorer 11 or older. This website works best with modern browsers such as the latest versions of Chrome, Firefox, Safari, and Edge. If you continue with this browser, you may see unexpected results.
Accessing Style Guides
Choosing which style guide to use depends on your needs. If you need to cite a wide variety of sources and material types you probably need a very detailed guide. In this case the official manual for the style is your best bet.
For example, MLA, APA, Chicago, and Vancouver/Uniform styles all have official manuals which the Library owns. These are exhaustively detailed and act as the "final say" if you find conflicting advice elsewhere.
NOTE: Most citation styles require that you cite the same or similar elements for each material type, but differ on things like the order and layout in which the elements appear. So, while the details may be different, the basic pieces of information you'll need to cite will often be the same.
Style guides will help you navigate these differences.
Some style guides are used extremely frequently. These links will take you to the UBC Library holdings on these major style guides.
Print versions for many style guides are available at the Chapman Learning Commons Help Desk on the 3rd floor of the Irving K.Barber Library. Check their hours here
If you just need a quick refresher on how to format something in a style you've used before, an online guide or tip-sheet might be best.
Using Style Guides
If you've never used a style guide before it can be confusing to navigate. The index may be the easiest way to get to the page you need to consult, but first you need to analyze your source and determine which citation elements you'll need to record.
Step 1: Start with authorship
Does the source have an author? Multiple authors? Is the author unknown or pseudonymous? You'll find the rules for formatting all these options in the index under "Author(s)," "Authorship" or similar term.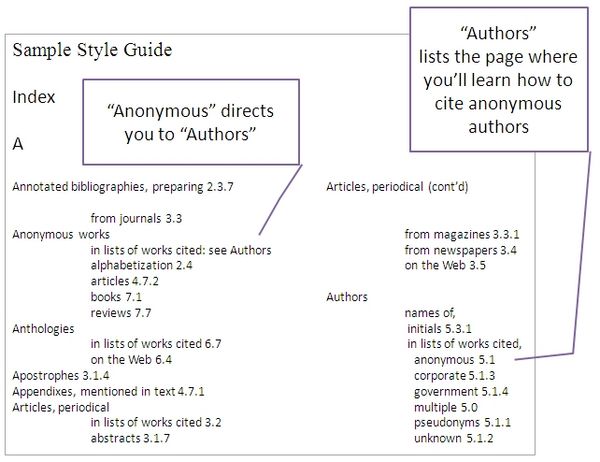 Step 2: Look at the type of your source
Finding the rules for citing different types of sources works the same way as finding out how to cite different types of authors - consult the index.
Are you quoting a book? A journal article? A blog entry? A sacred text? A section of a website?
Different format types have different elements that must be recorded – so look the format up in the index to see all the pieces of information you need to include in the citation.
Step 3: Look up the formatting rules
Make sure that you look up the rules for formatting your citation both in the text of your paper and in the list of works cited/bibliography.
Often the formatting rules are substantially different, e.g., you may find that the rules make you indent your in-text citations differently from how they appear in the bibliography, or the way multiple authors are handled may be very different.
source: http://wiki.ubc.ca/Library:How_to_Cite/Using_Style_Guides